S1E3 - Assistive Technology & Special Ed. Law Part 3
Assistive Technology Cases - Dispute Resolution
April 2, 2020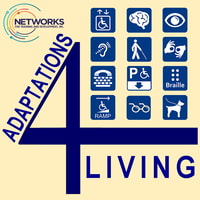 Episode 3: Assistive Technology & Special Ed. Law Part 3
Assistive Technology Cases - Dispute Resolution
Recording Date: 2008
Transcript:
Download available here: https://bit.ly/3dK9I4N
Keywords: IDEA, Assistive Technology and Special Education, Special Ed. Law, special education law, PILCOP, Judy Gran, assistive technology, IDEA dispute resolution, compensatory education, compensatory ed
Episode Summary: Today's episode is Part 3 of our Assistive Technology & Special Ed. Law series, recorded in 2008 as part of a presentation given by Judy Gran (PILCOP) to graduate students of Arcadia University. Despite the length of time since this recording, the information remains relevant.
Find out more at https://networks-adaptations-for-livin.pinecast.co
This podcast is powered by Pinecast.