S1E1 - Assistive Technology & Special Ed. Law - Part 1
Introduction and Overview of IDEA
April 2, 2020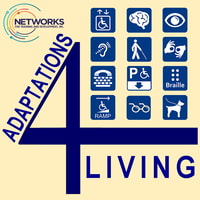 Assistive Technology & Special Ed. Law Pt. 1
Recording Date: 2008
Transcript:
Download available here: https://bit.ly/2wUk6pO
Keywords: Special Education, IDEA, PILCOP, Assistive Technology, compensatory education, FABE, AT and Schools, AT and education, Judy Gran
Episode Summary: We kick off the Adaptations for Living Podcast with an archived 7 part series from 2008. Judy Gran, of PILCOP - Public Interest Law Center of Pennsylvania - shared with students from Arcadia University how IDEA regulations impacted the use of assistive technology in our schools. Although the recording was from some time ago, thees regulations are largely still in effect. We hope you find this information useful. Stay tuned for future episodes.
Topics:
Introduction [0:23]
IDEA Regulations [2:03]
Find out more at https://networks-adaptations-for-livin.pinecast.co
This podcast is powered by Pinecast.