S1E4 - Assistive Technology & Special Ed. Law Part 4
Assistive Technology Cases - Principles of Case Law
April 2, 2020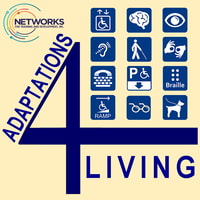 Episode 4: Assistive Technology & Special Ed. Law Part 4
Assistive Technology Cases - Principles from Case Law
Recording Date: 2008
Keywords: FAPE, LRE, Failure to implement assistive technology recommendations, Judy Gran, Assistive Technology and special education, compensatory ed, compensatory education
Transcript:
Download available here: https://bit.ly/346aNPO
Episode Summary: This episode brings us the fourth of our seven part series on assistive technology and special education law. This presentation, from 2008, was presented to a group of graduate students from Arcadia University. While the session was recorded some time ago, the principles and lessons learned still ring true today.
Topical Index:
Introduction [0:00]
Failure to evaluate [0:23]
Failure to incorporate recommended technology [0:55]
LRE - Least Restrictive Environment [1:48]
SET Process [2:07]
Case overviews [2:56]
Find out more at https://networks-adaptations-for-livin.pinecast.co
This podcast is powered by Pinecast.