S1E8 - Accessibility Through Collaboration
April 21, 2020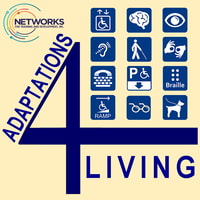 Season 1, Episode 8: Accessibility Through Collaboration
Recording Date:
September 8, 2018
Transcript:
Download available here: https://bit.ly/3cHHaYp
Keywords: product development, usability, accessible products, collaboration during product development, collaboration, Washington University, accessible glucose monitor
Episode Summary: This episode explores the potential benefits when product developers include end-users throughout the development process. The gains for true accessibility are explored.
Topical Index:
Introduction [00:07]
The problem [00:47]
Current solutions [03:33]
Collaboration [06;15]
The solution [07:53]
Lessons to be Learned [12:04]
Closing [13:24]
Resources:
Subscribe to our podcast
Find out more at https://networks-adaptations-for-livin.pinecast.co
This podcast is powered by Pinecast.